If you're looking for a delicious, warm, and flavorful dish that aligns perfectly with the keto diet and still makes your taste buds dance with joy, then look no further than our wonderful Keto Stuffed Pepper Soup. This hearty and nutritious dish, inspired by the classic stuffed pepper recipe, is a soul-warming blend of lean ground beef, cauliflower rice and colorful bell peppers, all swimming in a tantalizing bath of herbs-infused tomato sauce. The dainty flavors of garlic and onion, enhanced with dried basil, oregano, and thyme, create an aroma so inviting that it almost evokes the nostalgia of home-made meals. The warmth and richness of the dish, amplified by the subtle notes of low-sodium beef broth, offer a comforting and satisfying experience.
The best part about this Keto Stuffed Pepper Soup is that it makes for a meal that's not only scrumptious, but also aligns perfectly with your keto dietary needs. And for everyone leading a busy life, we ensure that it's super easy to make. That's where the 'Lazy Keto App' comes in. This comprehensive app is an excellent tool for all your keto recipes, including this one. With step-by-step guides and handy tips, the app makes cooking this nutrient-dense, keto-friendly bowl of goodness a breeze.
Apart from being succulent and irresistibly tasty, this Keto Stuffed Pepper Soup has versatility at its heart. It effortlessly adapts to different palates and preferences. Have a vegetarian at the table? Swap the beef for tofu or mushrooms. Is dairy not an issue for you? Add a dash of cheese to enhance its creamy texture. Need something more substantial? Serve it with a side of keto bread. Enjoy the depth of flavors in each spoonful, and experience the soft crunch of peppers with the tender chewiness of beef, providing a delightful contrast. With this recipe, you're serving up a feast for the tastebuds that's packed with nutrition and fully in sync with a keto lifestyle.
Download the app
Scan the QR code to download the Lazy Keto app, available on the Apple App Store and Google Play Store.

1 Lb Lean Ground Beef

1 Cup Cauliflower Rice

2 Tbsp Olive Oil
1 Yellow Onion, chopped

2 Cloves Garlic, minced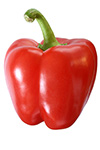 1 Cup Chopped Red Bell Pepper

1 Cup Chopped Yellow Bell Pepper

1 Can (14 oz) Diced Tomatoes

1 Can (15 oz) Tomato Sauce

1 Can (14 oz) Low-Sodium Beef Broth

1/2 Tsp Dried Basil

1/2 Tsp Dried Oregano

1/2 Tsp Dried Thyme

Salt and Black Pepper to taste

Fresh Parsley, chopped, for garnish
In a pan over medium heat, warm 1 Tbsp olive oil, add ground beef, season with salt and pepper, and cook until browned, stirring occasionally.
Drain excess fat, add onions, garlic, and peppers, and cook for 5 more minutes.
Add beef broth, diced tomatoes, and tomato sauce, followed by thyme, basil, and oregano, stirring to combine, then simmer on low for 25-30 minutes, stirring occasionally.
Prepare cauliflower rice according to your preferred method.
Remove the soup from heat, stir in the cauliflower rice, and serve garnished with fresh parsley.
Download the app
Scan the QR code to download the Lazy Keto app, available on the Apple App Store and Google Play Store.
Nutrition Facts
% Daily value*
---
---
---
---
---
Total Carbohydrate
10.33g
26%
---
---
Included Sugar 3.48g
---
Net Carbohydrates 6.71g
34%
---
---
---
---
*
The % Daily Value (DV) tells you how much a nutrient in a serving of food contributes to a daily diet. 2,000 calories a day is used for general nutrition advice.